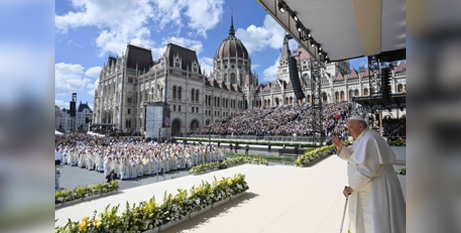 Pope Francis wrapped up a three-day visit to Budapest by issuing a final plea for peace in Ukraine and appealing to the often-isolated Hungarian nation not to close its doors to those in need. Source: NCR Online.
"In a special way, watch over the neighbouring, beleaguered Ukrainian people and the Russian people, both consecrated to you," the Pope prayed, invoking the Virgin Mary, at the end of his Mass in Budapest yesterday.
"You, who are the Queen of Peace, instil in the hearts of peoples and their leaders the desire to build peace and to give the younger generations a future of hope, not war, a future full of cradles not tombs, a world of brothers and sisters, not walls and barricades," Francis said.
The Pontiff's remarks came on the final morning of a carefully watched trip where he toed a cautious line on Russia's invasion of Ukraine – issuing repeated calls for peace and meeting with Ukrainian refugees, while avoiding specifics about the war itself.
The Pope's words were primarily future-minded, calling for Europe to recommit to multilateralism and to rediscover its Christian roots.
Throughout his weekend stay, Francis emphasised to both the country's Church and political leaders that those claiming to be Christians must always be willing to welcome strangers. The country, which has some of the strictest immigration policies in Europe, has recently seen over two million Ukrainian refugees pass through its borders.
At the final Mass, where some 50,000 Hungarian Catholics filled the square in front of the capital's neo-Gothic parliament building, Francis said it was painful to witness "the closed doors of our indifference towards the underprivileged and those who suffer; the doors we close towards those who are foreign or unlike us, towards migrants or the poor".
Christians, he said, must reject the closed doors of selfishness, individualism and isolationism.
FULL STORY
Pope departs Hungary pleading for peace in Ukraine, warning against isolationism (By Christopher White, NCR Online)
RELATED COVERAGE
Pope in Hungary 2023 (Crux)
Pope Francis in Hungary (NCR Online)
Pope Francis bids farewell to Hungary (Vatican News)