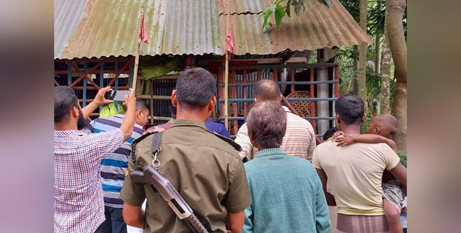 A Catholic bishop in Bangladesh has deplored the vandalism of four Hindu temples, expressing concern over the protection of religious minorities in the Muslim-majority nation that goes to the polls next year. Source: UCA News.
"We are horrified when any minority is persecuted," said Bishop Sebastian Tudu of Dinajpur Diocese, located northwest of the capital Dhaka.
At least eight idols from four temples were destroyed and defaced by unidentified persons in the Fulbaria sub-district of Kurigram district in the northern part of Bangladesh on Tuesday.
One of the four places attacked was a popular temple dedicated to Hindu deities Radha and Krishna.
Sajjad Hossain, additional superintendent of police of Kurigram, who visited the temples and spoke with Hindu religious leaders, said those involved "in the vandalism will be quickly identified and brought to justice".
Bishop Tudu said not only Hindus but minority Christians are also persecuted in various ways in Bangladesh.
"Christians are often beaten up by Muslims in the diocese over land disputes. We have sought government attention to the issue," Bishop Tudu said.
Violence against minorities around election time is common in this area. "We have already talked to the government and we want peace, which has been assured by the government," Bishop Tudu added.
According to Anil Chandra Roy, general secretary of the Fulbaria branch of the Bangladesh Hindu Buddhist Christian Unity Council, before the national elections scheduled for January next year, organised criminals are attacking temples to spread fear among the minorities.
FULL STORY
Bangladeshi bishop deplores vandalism of Hindu temples (UCA News)