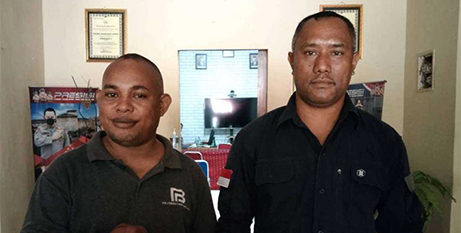 Police in Indonesia's Catholic-majority Flores Island summoned four Catholic villagers and local activists and accused them of sedition over a planned protest during the upcoming summit of Southeast Asian leaders. Source: UCA News.
The villagers and activists planned to demonstrate over the compensation for houses and land clearing for a road in front of the ASEAN summit venue in Labuan Bajo, a popular tourist town, during the three-day summit, which begins today.
However, the West Manggarai District Police issued summons to Catholic farmers, Dominikus Safio Bion and Viktor Frumentius, and activists, Doni Parera and Ladis Jeharun, on May 7 and accused them of sedition.
The police action came two days after they applied for permission to hold the rally on the first day of the summit to demand compensation for the road project.
The 25-kilometre road stretch having a width of 23 metres was inaugurated by President Joko Widodo on March 14. It leads to the special economic zone in Golo Mori, some 25 kilometres to the south of Labuan Bajo, the host of the Summit.
The protesters alleged that at least 51 families from the villages of Cambi, Nalis, and Kenari, most of whom were farmers, were evicted while 23 houses, 14,050 square metres of yards, 1790 square meters of rice fields, and 1080 square meters of fields were taken away by the government without any compensation.
Bishop Siprianus Hormat of Ruteng Diocese, which covers the area, supported an appeal from the provincial police chief, who on April 27 called on residents "not to take action during the event."
The bishop asked Catholics in a letter read at Masses on Sunday to help the Government make the event successful by "creating a cool, comfortable, and joyful atmosphere."
But in a statement on May 8, a coalition of civil society groups, including the Franciscans' Justice, Peace and Integrity of Creation Commission called the accusations of sedition "absolutely fabricated and a real mistake by the police".
FULL STORY
Four Indonesian Catholics face sedition charge over ASEAN protest (UCA News)