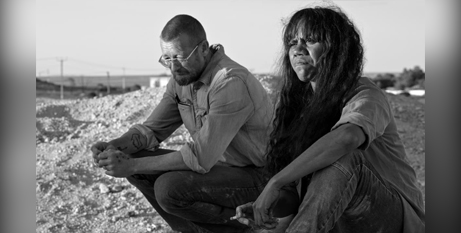 Limbo is an Australian mystery thriller about a detective who arrives in an outback town to investigate the 20-year-old unsolved murder of an Indigenous woman. Source: Australian Catholics.
This film is distinctively "noir" in character and the landscape of the Australian outback is remarkably austere and forbidding. Action takes place in a fictional mining community in a small town called Limbo. The film itself was set in and around Cooper Pedy, SA.
Detective Travis Hurley (Simon Baker) arrives in a desolate, impoverished town in outback Australia to investigate the murder of Charlotte Hayes.
He begins his investigation with the goal of finding out whether the murder case should be reopened, but he is forced to confront the injustices of a system that has not served the town, or its community, well.
He is also haunted by personal demons of his own making that are resurrected in Limbo when he is forced to revisit his own past.
In slow-burn thriller mode, the film shows Travis starting to uncover truths that highlight the enduring lack of justice for Indigenous Australians. He interviews members of the family, witnesses, and the brother of the victim, Charlie (Rob Collins), all of whom treat him coldly. Emma (Natasha Wanganeen), a little more forthcoming, doubts that reopening of the murder case will amount to anything. It becomes obvious that the earlier investigation of the crime was indecisive, superficial and rushed. A confession from any Indigenous person was all that the police wanted.
When that proved unworkable, the murder case was shelved, and a lost girl's family was left traumatised with no support. The film makes trenchant comment on the racist behaviour of the police, and the film strongly conveys the message that little has changed since. The investigation would have been a lot more thorough, the film implies, if it was a white girl, who was murdered.
This is a tough, highly disciplined film, beautifully photographed but with a grim story to tell.
Limbo: Starring Simon Baker, Rob Collins and Natasha Wanganeen. Also, Nicholas Hope and Mark Coe. Directed by Ivan Sen. Rated MA 15+. Restricted. (Strong drug use). 108 min.
FULL REVIEW
Limbo (Jesuit Media via Australian Catholics)