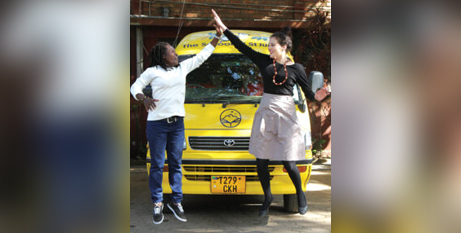 After working at a school for underprivileged children in Tanzania for almost six years, Madeleine Kelly has returned to Adelaide, grateful for the life-changing experience and armed with her first published book. Source: The Southern Cross. 
Ms Kelly's book, The School that Hope Built, relates the short history of the School of St Jude, which was established by Australian Gemma Sisia in 2002.
From humble beginnings, with only three students enrolled and one volunteer teacher, the private school today has three campuses with more than 1800 students. Competition for the free education offered is fierce and students must pass an entrance exam and meet the "poverty assessment" before being offered a full scholarship.
Graduates of the school are now "giving back" and helping to change the face of Tanzania – through their jobs as doctors, engineers, teachers, in agriculture and STEM occupations, and trades.
A former student at St Aloysius College, Ms Kelly is back as its communications officer and justice and mercy coordinator.
In 2016, only hours after her university graduation ceremony, she headed for Tanzania to take up a role in St Jude's marketing and communications team. When her contract finished two years later she wasn't ready to go home so began establishing the alumni department and continued to help the community as COVID closed the doors of the school. She then accepted an invitation to write a book about the history of St Jude's.
At the launch of Ms Kelly's book on June 7 at St Aloysius College in Adelaide, more than 170 family, friends, old scholars and donors gathered to celebrate the literary achievements of the 29-year-old.
Parents John and Marie Kenny noted the three qualities of their daughter – her faith, persistence and resilience, and ability to communicate – that made her so suitable for working at St Jude's.
The School that Hope Built is published by Allen & Unwin. For more information about the School of St Jude go to schoolofstjude.org
FULL STORY
Maddie's story of hope (By Lindy McNamara, The Southern Cross)