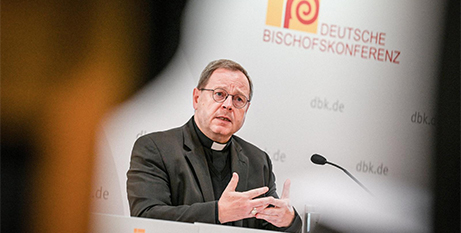 Representatives of the Roman Curia and the German bishops' conference met on Wednesday to discuss theological and disciplinary issues related to the Church in Germany's synodal way in a "positive and constructive climate". Source: NCR Online.
The meeting was a "continuation of the dialogue initiated during the 'ad limina' visit of the German bishops in November 2022" ,the Vatican and the German bishops said in a joint statement.
In November, Germany's 63 bishops met with Pope Francis for two hours and discussed with heads of Vatican offices the synodal path the Church in Germany launched in December 2019.
It specified that more meetings between the Vatican officials and the German bishops were expected in the future in which the theological and disciplinary topics addressed would be discussed further.
Wednesday's meeting was attended by Cardinals Luis Ladria, prefect of the Dicastery for the Doctrine of the Faith (whose term ends in September); Kurt Koch, prefect of the Dicastery for Promoting Christian Unity; Cardinal-designate Robert Prevost, Prefect of the Dicastery for Bishops; Archbishops Filippo Iannone, prefect of the Dicastery for Legislative Texts and Vittorio Viola, secretary of the Dicastery for Divine Worship and the Discipline of the Sacraments.
Various German bishops, including Bishop Georg Bätzing of Limburg, president of the German bishops' conference, and the presidents of the German bishops' commissions for liturgy, vocations, ecclesial services, the universal Church and faith, in addition to the conference's secretary general and spokesperson represented the German delegation.
The synodal path, which began in 2019, is a collaborative effort between the Central Committee of German Catholics (ZdK) and the German bishops' conference, CNA reports.
During a concluding assembly in March, delegates overwhelmingly passed a number of controversial measures to change Church practices.
Pope Francis and the Vatican have intervened repeatedly in the Synodal Way, as have a large number of bishops and theologians, both from Germany and around the world, raising serious concerns about many aspects of the process.
FULL STORY
Vatican officials meet German bishops to continue dialogue on Synodal Path (By Justin McLellan, CNS via NCR Online)
Vatican and German bishops discuss theological questions from Synodal Way (By Hannah Brockhaus, CNA)