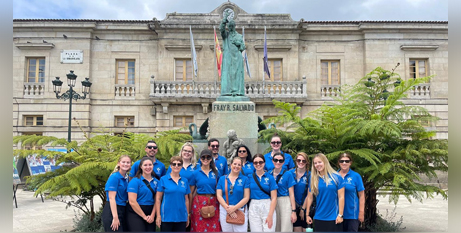 Camino de Santiago pilgrims representing Catholic Education Western Australia say their 121km walk over six days as a group was an unforgettable, "once-in-a-lifetime" experience. Source: The eRecord.
The Camino de Santiago follows in the footsteps of Benedictine monk Dom Rosendo Salvado from Santiago in Spain, who established the monastery in New Norcia, Western Australia.
The CEWA group walked from Tui, the birthplace of Rosendo Salvado, and ended at the Cathedral of Santiago in Compostela, which houses the tomb of St James.
Catholic Education Commission of Western Australia chair, Eva Skira, said she felt deeply encouraged by the positive attitudes of the young Catholic teachers and staff who undertook this pilgrimage.
"The grit, determination and resilience of our young walkers to finish the Camino was inspirational. In their steps, I felt the presence of God," Ms Skira said.
"As a commission we need to be greatly attentive to our mission, vision and the future.
"It will be our people who will create and be our future. Having witnessed their Camino journey this past week I am very confident in the capacity and commitment of our young Catholic teachers and staff."
Sarah Clairs, from Sacred Heart College, said the Camino was a huge journey both physically and spiritually.
"There was pain, blisters and tears but the connection and relationships we formed with God, nature, others and ourselves helped us make it to the end," Ms Clairs said.
"The support, courage, kindness and laughter of the group was what carried everyone through and made it an experience that will be cherished forever."
FULL STORY
CEWA group provide testimonials at completion of Spanish Camino (The eRecord)