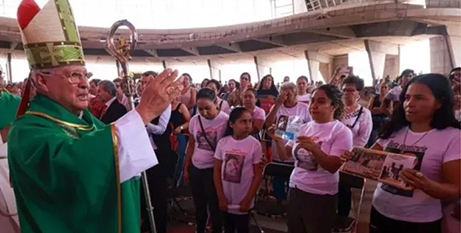 The Church in Mexico held various prayer initiatives last week with the relatives of victims of forced disappearance, a crime that has plagued the country in recent decades. Source: National Catholic Register.
In Latin America to say someone "was disappeared" means that the person was abducted, often by organised crime, an authoritarian government, or a rebel group and may or may not be alive.
According to the National Registry of Disappeared and Unlocated Persons, from January 1, 1962, to August 28, 2023, there were 111,068 disappeared persons throughout the country, 14,889 of whom are from the state of Jalisco, which leads the nation in this crime.
The archbishop of Guadalajara, Cardinal Francisco Robles Ortega, offered a Mass on Sunday at the Shrine of the Martyrs of Christ the King for the thousands of disappeared persons and their families. The Mass was held in the context of the International Day of Victims of Enforced Disappearances, which was commemorated yesterday.
Cardinal Robles encouraged the relatives of the disappeared to keep alive the memory of the people whom "you are missing and we are missing".
"We cannot settle for saying 'disappeared,' that is, 'those people no longer appear on the map of humanity, they no longer count' … We need to keep alive the awareness that each of these faces in the photographs that you have brought are a loved, sought after, dear person, a person who is missing from the centre of the family. An absent person," the Cardinal said during his homily.
Before the Mass, the families held a procession through the streets of Jalisco with the relics of St. Cristóbal Magallanes and fellow martyrs who died during the persecution of the Mexican Church in the 1920s.
In San Juan de los Lagos Diocese, apostolic administrator Archbishop Jorge Alberto Cavazos Arizpe encouraged the faithful to spend a weekend in prayer to show solidarity with recent victims of forced disappearance.
FULL STORY
Church in Mexico Prays With Relatives of Disappeared Persons (National Catholic Register)