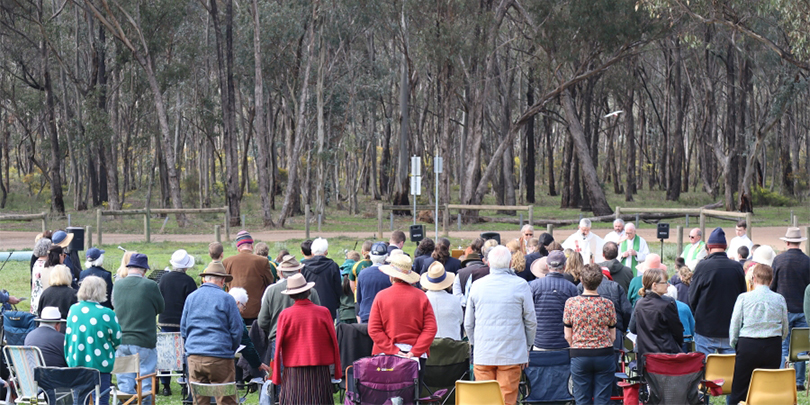 A congregation of 200 parishioners, students, teachers and a flock of galahs attended Sandhurst Diocese's launch of the Season of Creation in the Whipstick Forest, Bendigo.
Galahs flew in to perch on surrounding Kamarooka Mallee, and wildflowers rustled with the breeze – as if they knew the Gospel Reading was about them – at Sandhurst's Mass and Picnic to launch of the Season of Creation on September 1.
Sandhurst gathered as a Diocese committed to the Laudato Si' Action Platform and to encourage all parishes and schools to take up the Catholic Earthcare journey towards Pope Francis' seven goals.
Mass was celebrated by Bishop Shane Mackinlay and with other diocesan priests concelebrating.
Kerry Stone, from the Sandhurst Care for Creation Team, welcomed people to Mass and proclaimed the theme for the Season of Creation this year:
"Let Justice and Peace Flow. The prophet Amos cries out, 'But let justice roll on like a river, righteousness like a never-failing stream!' We are called to join the river of justice and peace to take up climate and ecological justice and to speak out for communities most impacted by climate injustice."
In his homily, Bishop Mackinlay reflected on the Gospel (Matthew 6:25-34). "Our report card on most of Jesus' commands, would probably read, 'Tries hard, could do better'," he said. "However, there is one of Jesus' commands that we do exceptionally well on. Jesus says, at the end of today's Gospel – 'Don't worry about tomorrow, tomorrow will take care of itself' … We are over performers in not worrying about tomorrow, in kicking the can down the road."
Referencing Pope Francis' 2015 encyclical Laudato Si', Bishop Mackinlay related the Gospel reading to integral ecology. "As we're increasingly aware, if we don't care for the needs of all the life of God's creation, we won't be able to meet the individual needs that we have or the needs that our community has, or that any of those have."
FULL STORY
Sandhurst Diocese launched Season of Creation with Mass and picnic in the Whipstick Forest (Sandhurst Diocese)