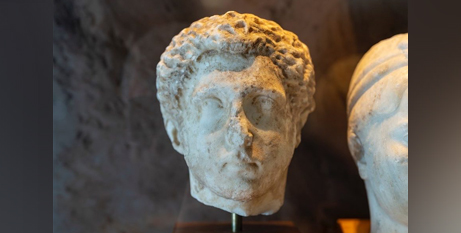 Three artefacts that have been kept in the Classics Museum at the Australian National University were stolen from Italy, including an item owned by the Vatican. Source: Canberra Times.
A 2500-year-old vase linked to a notorious looted antiquities dealer will be returned to Italian ownership under a repatriation agreement with the ANU.
But it, along with two other pieces under investigation, a fish plate and the marble head from the Vatican, will be able to stay on display under a loan agreement with Italy.
The university bought the two-handled vase in 1984 from Sotheby's in London but the specialist art squad of Italy's military police force, the Carabinieri Command for the Protection of Cultural Heritage, recently linked the amphora to an infamous dealer active in the Italian illegal antiquities trade in the 1970s and 80s.
Curator of the ANU Classic Museum, Georgia Pike-Rowney, said the Carabinieri had been able to identify the vase using its vast database and an AI-driven Stolen Works of Art Detection System.
The university made its archives available to the Carabinieri as soon as the vase was brought to its attention, revealing a second problematic object, an Apulian red-figure fish plate dating back to the late 4th century BCE.
A third item, a marble portrait head owned by the Vatican, is the most confounding; the museum brought it to the Carabinieri's attention during the investigations.
"The Vatican had a collection displayed in the Lateran Palace, which is owned by the Vatican, but it's actually in the city of Rome. And that museum shut in 1970. We purchased ours in 1968," she says.
"So how a piece from a Vatican collection on display in Rome made its way to an Australian university in 1968 via Sotheby's in London I have no idea."
The piece is now subject to a separate inquiry, but remains on display.
FULL STORY
Looted antiquities to stay on display at Australian National University (By Sally Pryor, Canberra Times)