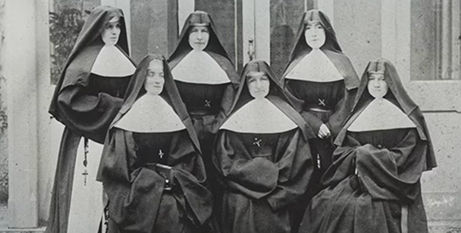 The Brigidine Sisters are celebrating 140 years as educators and pioneers in the rural town of Coonamble, New South Wales. Source: ABC News.
Sr Eileen Creagh remembers the day she celebrated with the residents of Coonamble as the drought broke in the late 1940s.
"It was wonderful. The joy of the Coonamble people was really palpable. You could see it in their faces," she said.
"Even the nuns went out to enjoy the rain on their faces."
It was this kind of community that drew six Irish nuns to the rural NSW town, located 500 kilometres north-west of Sydney, 140 years ago.
In 1883, the Brigidine Sisters were greeted by the town's 800 residents after a two-month journey from Ireland.
The sisters had been chosen from 17 volunteers at an Irish convent to set up a Catholic school in Coonamble.
Last week saw the return of a number of Brigidine nuns to celebrate their 140-year contribution to the community, and to thank the town for its continued support.
Among them was Sr Clare Keady, who attended the convent boarding school in the 1940s and later joined the order as a Brigidine.
She says the original Brigidines will always be remembered for their courage.
"They had something of the explorer about them, I think, that kind of, 'Let's go into the unknown', a sense of adventure," Sr Clare said.
FULL STORY
Brigidine Sisters celebrate 140 years as educators, pioneers in Coonamble, NSW (By Zaarkacha Marlan and Philippa McDonald, ABC News)
RELATED COVERAGE
Brigidine Sisters 140th anniversary (Firesteel Media)