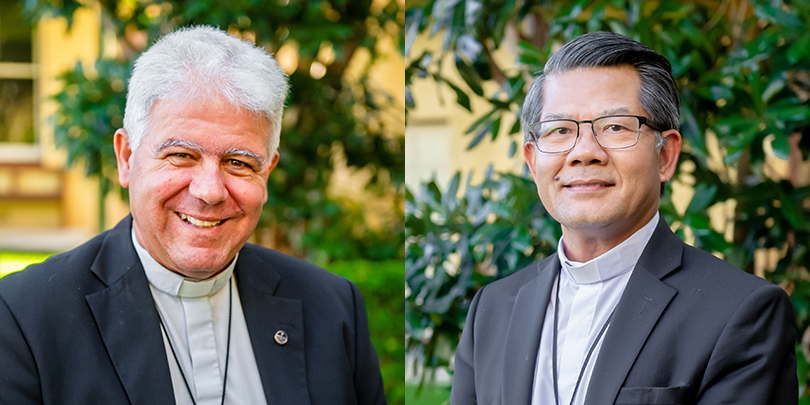 Two of Australia's Catholic bishops have this week publicly endorsed the Yes vote in the upcoming Indigenous Voice to Parliament referendum, issuing pastoral letters to their dioceses explaining their reasoning.
Darwin Bishop Charles Gauci issued his pastoral letter on Tuesday, the fifth anniversary of his episcopal ordination, while Parramatta Bishop Vincent Long OFM issued his pastoral letter yesterday, on the feast of St Vincent de Paul.
In his letter, Bishop Gauci said he understands the diversity of opinions on this issue and he would "never presume to dictate how you should vote; you must follow your own conscience and convictions".
"It's crucial to recognise that a Yes vote will not resolve all issues at once. Instead, I view it as another vital step toward healing and reconciliation. It fundamentally signifies the inherent dignity of our First Nations people," Bishop Gauci said.
In his letter to the Catholics of the Parramatta Diocese, Bishop Long says the referendum "will be a critical moment in the life of our nation. It will have implications for what kind of society we want ourselves to be".
Bishop Long said, "Enabling our First Nations People to have a say on the issues that affect them is a matter of the heart, common sense and justice".
Both bishops write that no matter the result of the referendum, the work of reconciliation and recognition of Australia's First Nations people must continue.
"Regardless of the outcome, I implore everyone to remain committed to working together for the greater good. My hope is that we can continue to collaborate, striving to enhance the lives and walk alongside our Aboriginal and Torres Strait Islander brothers and sisters," Bishop Gauci said.
Bishop Long said, "We must continue the work of justice, healing, reconciliation and recognition of our First Nations People.
"We need to walk with them, day by day, and work with them to bring about change for the better – for their people and for all of us. Strengthening our relationship with our Indigenous brothers and sisters is integral and indeed critical to the strengthening of the whole nation."
FULL STORY
Bishop Charles Gauci Expresses His Support for a 'Yes' Vote in the Upcoming Referendum on the Voice (Darwin Diocese)
Bishop Vincent's pastoral letter on the national Referendum on the Voice to Parliament (Catholic Outlook)