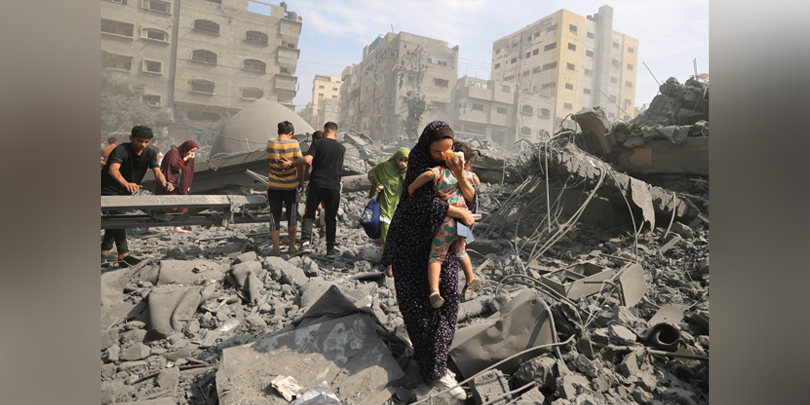 Pope Francis yesterday renewed his appeal to Hamas to release Israeli hostages and to Israel to let humanitarian aid reach Gaza, while inviting the faithful to join him in praying for peace on Friday. Source: Vatican News.
Pope Francis made his latest appeal for the Holy Land yesterday at his general audience in St Peter's Square.
"I always think of the grave situation in Palestine and Israel," the Pope said.
"I encourage the release of hostages and the entry of humanitarian aid into Gaza."
The Pope said he continues to pray "for those who suffer and to hope for paths of peace, in the Middle East, in the tormented Ukraine and in other regions wounded by war."
The Pope also invited the faithful to join him on Friday in marking the Day of Prayer, Fasting, and Penance for Peace in the world.
World leaders have voiced their intent to pursue efforts to prevent the conflict from spreading, nearly three weeks after Hamas militants attacked southern Israeli towns and killed more than 1400 people, most of them civilians.
Late on Tuesday, eight trucks with water, food and medicine entered the enclave from Egypt. Yesterday, Israel threatened to stop new fuel supplies reaching Gaza, accusing Hamas of stockpiling hundreds of thousands of litres as hospitals in Gaza are reportedly stopping all but emergency services as fuel runs out.
Meanwhile, Caritas agencies report that it is not safe to travel, but that a "rapid response" program is being prepared for launch as soon as it is possible.
Sally Thomas, humanitarian emergencies lead at Caritas Australia, said, "The biggest fear is the death toll rising further due to dehydration and lack of medical care, as without painkillers, for example, things like surgeries become impossible. The response will directly address these needs, as well as shelter, food, and other daily essentials. Many existing supplies are at the border waiting for more aid to be safely let in, with the need for support expected to remain high for the foreseeable future."
To support Caritas Australia's Gaza Appeal, visit the Caritas website.
FULL STORY
Pope appeals for release of hostages, entry of humanitarian aid into Gaza (By Deborah Castellano Lubov, Vatican News)
Caritas network preparing rapid response to the humanitarian crisis in Gaza (Caritas Australia)