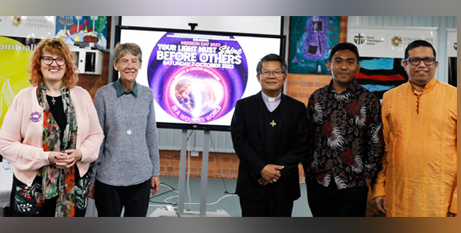 The Divine Word Missionaries' annual mission day in Melbourne saw more than 300 people gather to explore the theme "Your Light Must Shine Before Others: Faithful and Creative Discipleship in a Wounded World".
The guest speaker was Parramatta Bishop Vincent Long OFM Conv and the response was given by Anglican priest and theologian, Rev Dorothy Lee of Trinity College, the University of Divinity, with the discussion moderated by Sr Patricia Fox NDS.
Fr Albano Da Costa SVD, Vice-Provincial of the Divine Word Missionaries Australia Province, said the theme was chosen to align with the theme of next year's 19th General Chapter of the Society of the Divine Word.
"Reflecting on the context of the world today and in view of the 150th anniversary of the Society of the Divine Word in 2025 and the 19th General Chapter in June 2024, we together decided that the theme of this year's annual SVD Mission Day celebration would be 'to enhance our growing in authentic discipleship by strengthening our identity, being creative in our ways of proclamation and witnessing to Christ in a wounded world'," he said.
"The implications, therefore, for a missionary Church are not for the faint-hearted. A prophetic call is now at hand to see the cracks and respond with renewed purpose attuned to an integral vision of humanity envisioned by God. It's now or never for prophets and healers to rise."
In his presentation, Bishop Long said that being a Christian is not merely being concerned with the afterlife rewards and individual salvation but has a much broader focus and lofty vision.
"The God that Jesus revealed impels us to build the kingdom that embraces all of life in the universe," he said.
"Following his footsteps, we are called to be people who are on the side of truth, justice, dignity, starting with the oppressed, with those who are most impacted, including creation."
FULL STORY
Mission Day explores ways to be faithful & creative disciples in a wounded world (In The Word)