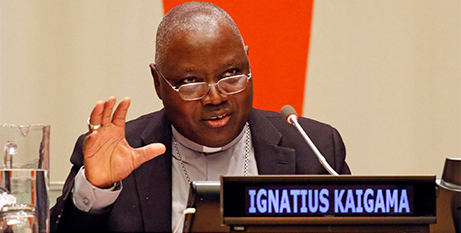 A Nigerian archbishop has said that Africans see Catholicism in the West as a "Church in decline", while in Africa, Christianity is flourishing because of a strong biblical faith and traditional moral convictions. Source: Crux.
"The African understanding of Biblical authority, sex, marriage, and sin may strike Western liberals as backward and superstitious," said Archbishop Ignatius Ayau Kaigama of Abuja, but he insisted those beliefs have strong appeal in African cultures.
Archbishop Kaigama, 65, said that Catholicism globally is "evolving toward Africa."
Archbishop Kaigama, who recently participated in this month's Synod on Synodality, spoke after new statistics were released by the Vatican confirming the Church's growth in Africa.
The data, released on October 22 on the occasion of World Mission Sunday by the Vatican's Fides News Agency, covers the period of December 31, 2020, to December 31, 2021.
The report indicates that Catholics across the globe increased by 16.2 million over that span, and reaching a total of 1,375,852,000 people, representing 17.67 per cent of the world's population.
According to the data, Africa continued to be the growth centre of Catholicism, increasing by 8.3 million people. The Americas saw a modest growth of 6.6 million. Asia grew by 1.49 million while Oceania's Catholic population went up by 55,000. Europe again declined, recording 244,000 fewer Catholics in 2021.
Archbishop Kaigama said most African Christians acknowledge the Church in the West as their "parent Church," but added that "we also see it as a Church in decline."
"Christianity may be waning in Western Europe, but it's on an impressive growth curve in other parts of the world, especially in Africa," he said.
"Surely, northern Christians have gifts of the Spirit to share with the south, but they must learn to assume a posture of reception," Archbishop Kaigama said. "The Church, like Western civilisation as a whole, is evolving toward Africa."
FULL STORY
Nigerian prelate says Catholicism globally is 'evolving toward Africa' (By Ngala Killian Chimtom, Crux)