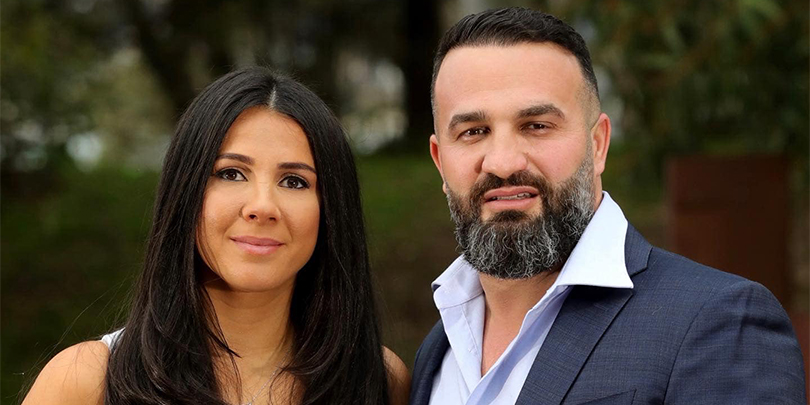 Sydney father Danny Abdallah, who lost three of his children when they were killed by a drunk driver, yesterday shared his journey to forgive the man responsible for their deaths. Source: Sky News Australia
Danny and Leila Abdallah's children – Antony, 13, Angelina, 12, and Sienna, eight – were walking to get ice-cream when they were struck by a car in Oatlands on February 1, 2020.
Samuel Davidson was behind the wheel of the out-of-control ute and under the influence of drugs and alcohol when he mounted the footpath and crashed into the group of children.
Mr and Mrs Abdallah's 11-year-old niece Veronique Sakr was also killed in the crash.
The couple were the guest speakers at the National Prayer Breakfast in Parliament House in Canberra yesterday.
"Leila and I shared our journey of forgiveness and what it's been like for our family – the hardship that we've been through and the heavy cross that we have to carry and how forgiveness got us through that valley of grief," Mr Abdallah said.
"It's slowly getting us to a better place as a whole family."
Asked if he has forgiven the man who killed his children, Mr Abdallah answered: "Yes I have."
"I went and visited him [in prison] and we met and I could see the remorse. It's just really heavy." 
Davidson was sentenced to 28 years jail, which was later reduced on appeal to 20 years with a non-parole period of 15 years.
Mr Abdallah said his meeting with Davidson has helped him in the healing process. He also said Davidson has also become Maronite Catholic – the same faith as the Abdallah family.
The Abdallah family revealed last month they were expecting their eighth child, joining their surviving children Liana, Alex, Michael and Selina, who was born in March last year.
"Forgiveness is like … a muscle. You need to keep building it," Mr Abdallah said
FULL STORY
'I could see the remorse': Danny Abdallah shares journey to forgive drunk driver who killed three of his kids in the Oatlands tragedy (Sky News Australia)