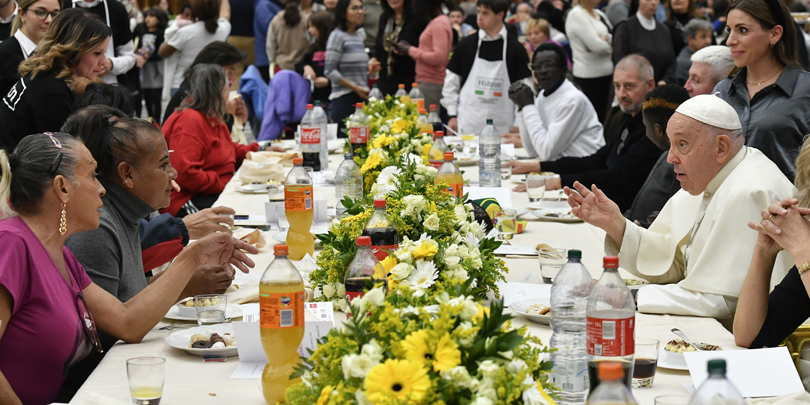 The material, cultural and spiritual poverties that exist in the world are a "scandal" that Christians are called to address by putting their God-given capacity for charity and love into action, Pope Francis said yesterday. Source: CNS.
The poor, whether "the oppressed, fatigued, marginalised, victims of war," migrants, the hungry, those without work or left without hope, "are not one, two, or three, they are a multitude," the Pope said during a Mass celebrated for World Day of the Poor in St Peter's Basilica. 
"And thinking of this immense multitude of the poor, the message of the Gospel is clear: let us not bury the wealth of the Lord. Let us spread charity, share our bread, multiply love," he said. "Poverty is a scandal."
Among the 5000 who filled the basilica for Mass were homeless people and others in need who were seated in the front rows near Pope Francis. After celebrating Mass and praying the Angelus, the Pope ate lunch in the Vatican audience hall with about 1250 people, continuing a tradition he began on the first World Day of the Poor in 2017. 
Seated at a central table, the Pope prayed that God would bless the food and "this moment of friendship, all together."
This year's World Day of the Poor drew its theme from the Book of Tobit: "Do not turn your face away from anyone who is poor." In the week leading up to the day, the Vatican extended the hours and operations of a medical clinic it runs near St Peter's Square dedicated to caring for anyone in need.
FULL STORY
'Poverty is a scandal,' pope says; Christians must use gifts for charity (CNS)
RELATED COVERAGE
Pope: May we offer wealth of charity, share our bread, multiply love (Vatican News)