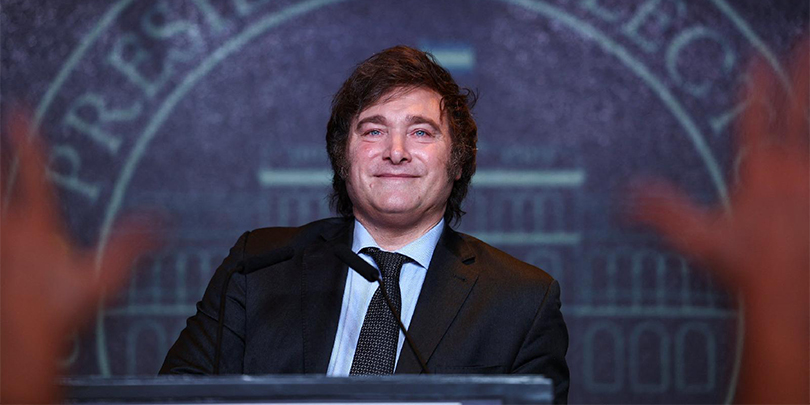 Javier Milei, who attacked Pope Francis as a "filthy leftist", has overwhelmingly won Argentina's presidential election on a radical libertarian platform of dollarising the economy and shrinking the state in a country beset by recurring economic crises and triple-digit inflation. Source: OSV News.
Mr Milei, an economist and congressman, claimed 55 per cent of the vote in the election and won all but three of Argentina's 24 provinces, besting Economy Minister Sergio Massa of the ruling Peronist coalition.
"Today, the reconstruction of Argentina begins," Mr Milei told enraptured supporters celebrating outside a hotel in central Buenos Aires, who shouted, "Freedom!" and "The caste is going to fall!" — a reference to Mr Milei calling politicians "the political caste".
With 40 per cent of the population living in poverty, his win came as a repudiation of the country's political class and economic policies of the past 20 years.
Peronists prided themselves on "social justice", which included free education, health care, and social welfare spending — much of which became less sustainable in recent years, according to analysts, who pointed to the Central Bank's practice of printing money.
Mr Milei's victory portends challenges for Church-state relations. He has maligned Pope Francis, a fellow Argentine, as a "malignant presence on earth", while a campaign surrogate spoke of severing relations with the Vatican.
Mr Milei walked back those comments and softened his tone in recent weeks to win more centrist voters, according to analysts.
Priests working with the poor in Argentina have spoken out against Mr Milei and celebrated a September Mass of reparation after his comments denigrating the Pope.
"He's a person that wants to destroy the state," said Fr Roberto Ferrari, a priest working with the poor in San Isidro Diocese, which covers suburban Buenos Aires. "He wants to be head of state to destroy the state."
FULL STORY
Javier Milei, who called pope a "filthy leftist," wins presidential elections in Argentina (By David Agren, OSV News)