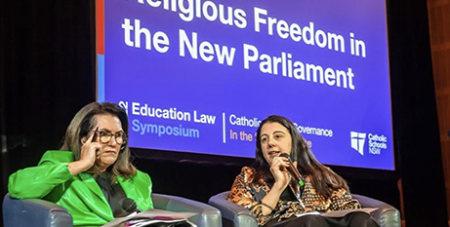 NSW Labor Senator Deborah O'Neill has reaffirmed the Albanese Government's commitment to introducing laws in the current Parliament allowing religious schools to preference hiring people of that same faith. Source: The Catholic Weekly.
Senator O'Neill was speaking in a panel discussion, "Religious Freedom in the New Parliament" at Catholic Schools' NSW 2022 Education Law Symposium on September 29, which brought together teachers, principals and other educational leaders from Catholic schools across the state.
The Central Coast-based senator said Labor acknowledges the key role religion plays in the lives of many Australians and believes legislation should be passed to protect people of faith.
"The sense of religion as a private matter that's just focused on inside a church or inside the gates of a religious school fundamentally neglects the power of religion to transform lives", Senator O'Neill told the symposium.
"If you're an Islamic woman and someone pulls your hijab in public, where is your protection? That's a fundamental attack on someone's right to manifest their faith in public", she added.
"We're seeing incredible hate crime, particularly anti-semitism and you now need security guards outside Hillsong Church. That is the reality and in those situations, we can't deny that there is discriminatory practice against people of religion and I think the time has come where both sides of politics need to unite to find a way forward and provide those protections for people of religion".
Fellow panel member and former federal Liberal MP and one-time human rights commissioner, Tim Wilson, questioned the merit in passing religious discrimination laws, arguing it could end up doing more harm than good for religious institutions, including Catholic schools.
FULL STORY
Labor reaffirms faith freedom plans (By Michael Kenny, The Catholic Weekly)