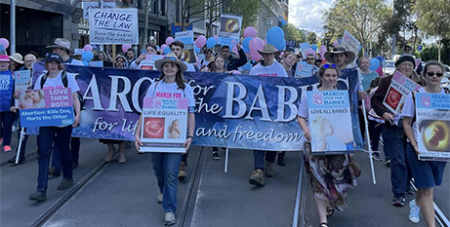 Abortion protests from both sides of the debate were prevented from clashing in Melbourne on Saturday, with police removing abortion rights supporters who infiltrated the annual pro-life March for the Babies rally. Source: SBS News.
A protester shaved their head on stage at the March for the Babies rally on Saturday, before members of Victoria Police force removed them from the stage.
Another person then held a banner reading "women life freedom" on stage at the rally, which was organised by Democratic Labour Party leader and former Liberal Party MP Bernie Finn.
As Mr Finn was speaking on stage, three people began undressing to reveal slogans written on tank tops, with one of them shouting, "our body, our rights". Two were then removed by police, while another left shortly afterwards.
Mr Finn said the Liberal Party should change its abortion policies, ABC News reported.
"If the Liberal Party really cares about human rights and really cares about civil liberties, they will protect everyone, and that includes babies before birth," he said.
Mr Finn, who has been an MP for nearly four decades, was expelled from the Liberal Party in May after posting inflammatory social media content about abortion rights.
He said Moira Deeming, who was chosen to replace him and contest the upper house Western Metropolitan Region seat at the November state election, also has pro-life views.
FULL STORY
Abortion rights supporters gatecrash 'March for the Babies' rally in Melbourne (SBS News)
RELATED COVERAGE
Police clash with abortion protesters, as opposing rallies take to the streets of Melbourne (ABC News)