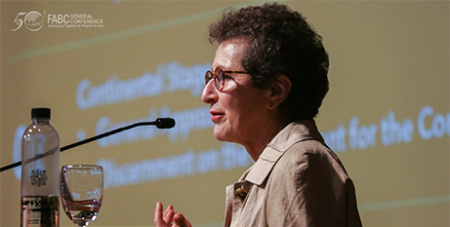 Australian Synod on Synodality advisor Susan Pascoe has told a meeting of Asian bishops that Pope Francis has been personally involved in the preparation work for the next stage of the Synod process. Source: Vatican News.
Ms Pascoe, who is an adjunct professor at the University of Western Australia, yesterday addressed the Federation of Asian Bishops Conferences general conference in Bangkok, Thailand
She updated FABC delegates on the Synod process, summing up the continental meeting that took place in Frascati, Italy, from September 21 to October 2. Ms Pascoe was one of the approximately 50 people who participated in writing the draft of the Document for the Continental Stage.
She told the FABC that Pope Francis was so involved in the Synod process that he wanted to see the first draft of the document drawn up by the commission that met in Frascati.
This was a "great comfort for those of us in Frascati that we weren't going down the wrong path", Ms Pascoe said.
Further feedback came from others involved in the local Synod process not present in Frascati who met over Zoom. "What an honest, authentic, rigorous, prayerful process this was," she said of the process so far.
Ms Pascoe said the content in the Document for the Continental Stage originated at the parish level. "It is genuinely the voice of the People of God."
FULL STORY
Susan Pascoe to FABC: Synod document is genuine voice of People of God (Sr Bernadette Mary Reis FSP, Vatican News)