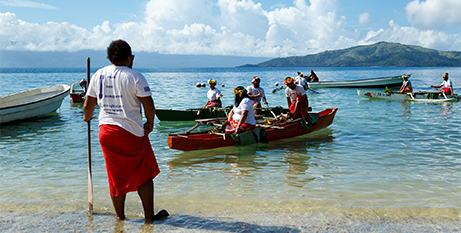 Polling commissioned by Caritas Australia has found climate change is the biggest global concern for two-thirds of Australians, easily outranking armed conflict, even as war rages in Ukraine. 
The polling was conducted to coincide with to United Nations climate change conference, COP27, taking place in Egypt this week.
A key question for COP27 is who should pay the costs of global warming – also known as climate finance. The research also found that nine in 10 Australians believe the biggest polluters should pay for the impacts of climate change.
The research found almost all Australians (91 per cent) feel it's important that Australia is a good partner and neighbour to other Pacific countries.
"There are few regions that feel the brunt of climate change like the Pacific. Their homes and ways of life are being swept away by rising sea levels and destroyed by cyclones and king tides. Our partners are telling us that they are picking up the bones of their ancestors like shells on the beach, as burial grounds are being washed away by rising tides," Damian Spruce, Caritas Australia's Advocacy Associate Director, said.
Small island nations in the Pacific have contributed only 0.5 per cent of the world's greenhouse gas emissions yet are struggling to pay for the increased frequency and severity of climate change impacts.
A new report, "Twin clouds on the horizon", by Caritas Oceania and Jubilee Australia Research Centre, shows that the Pacific region is facing a perfect storm of climate change induced disasters and skyrocketing debt burdens. The report calls for governments, including Australia's, to take the lead on climate debt in the Pacific through restructuring debt, improving climate finance and funding the Pacific Resilience Facility.
FULL STORY
Nine in ten Australians believe the biggest polluters should pay for the impacts of climate change (Caritas Australia)