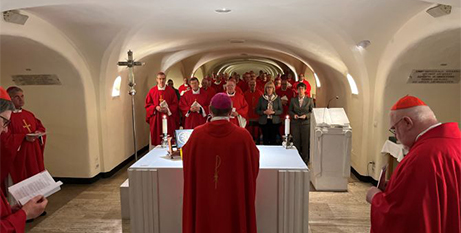 Amid ongoing concerns over the German Synodal Way, the president of the German Bishops Conference said yesterday unity and renewal in the Catholic Church was "truly not an easy task". Source: CNA.
Celebrating Mass at St Peter's Basilica, Bishop Georg Bätzing of Limburg announced the German bishops would "openly and honestly address" the topics of the controversial process during their ad limina visit in Rome this week.
Every diocesan bishop in the world is required to make an "ad limina apostolorum" papal visit to provide an update on the state of one's diocese. Sixty-three German bishops are in Rome this week for the visit, which concludes on Friday.
Bishop Bätzing said in his homily (German text) in St Peter's: "Preserving unity and at the same time enabling conversion and renewal – that is truly not an easy task for our Church today."
Several German bishops were sighted in Rome over the past few weeks in an apparent effort to prepare conversations about the controversial process.
In an interview published on his diocese's website ahead of the visit, Bishop Bätzing said he believed it was "no coincidence that we bishops are now invited to Rome".
The German bishop said there was "a lot of lack of understanding about our process in Rome".
"That's why I'm very grateful that we really have a lot of time to talk about this together. This is a real opportunity."
The Synodal Way — Synodaler Weg in German, sometimes translated as Synodal Path — is a controversial process with the declared aim of debating and passing resolutions about four topics: the way power is exercised in the Church, the priesthood, the role of women and sexual morality.
In a letter to German Catholics in 2019, Pope Francis warned of disunity. Earlier this month, he spoke about making sure to "not lose the people's sense of faith".
FULL STORY
'Truly not an easy task': German bishops begin talks in Rome amid Synodal Way concerns (By AC Wimmer, CNA)