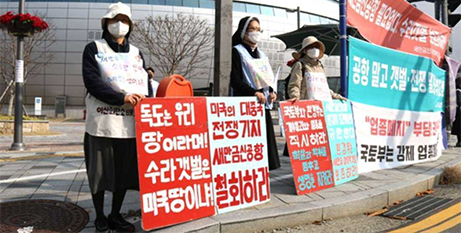 Catholic religious sisters in South Korea have marched on the streets and called for an upcoming airport project to be halted. Source: UCA News.
The Association of Superiors of Korean Catholic Women's Congregations organised an environmental campaign last week at Sejong City to press home for their demands, Catholic Times of Korea reported
Sejong is a special self-governing city and the de facto administrative capital of South Korea.
"Look at the living beings in the Sura tidal flat and listen to their cries. We will stand in solidarity with you until the end through action," said Sr Sang-Yeon Jan, chairperson of the Justice, Peace, and the Integrity of Creation.
A tidal flat is a muddy surface bordering the seashores or rivers supporting the ecosystem consisting of birds, fishes, and vegetation. They are also instrumental in preventing coastal erosion.
About 40 sister superiors from 17 religious orders participated in the campaign, accompanied by Fr Kang Seung-soo, head of the Ecological Environment Committee in Daejeon Diocese, and Salesian Father Park Seong-jae.
On the final day of the campaign, the sisters joined demonstrations, picketing and a public Mass conducted at the rear gate of the Sejong City Environment Ministry and the government complex.
During the Mass, Fr Kang Seung-soo said that the campaigners were "publicising the path of life that God desires through [their] actions."
One of the major concerns raised by the group was the construction of the Saemangeum International Airport in North Jeolla province which includes the Sura tidal flat. Construction is expected to begin in 2023 and to complete by the end of 2027.
FULL STORY
Korean nuns defend environment, oppose airport project (UCA News)