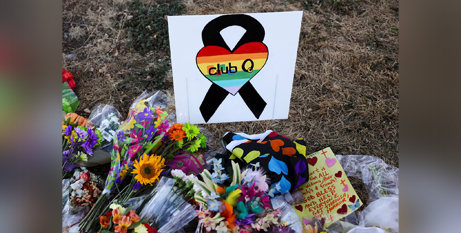 Catholic leaders in the United States have condemned an attack on an LGBTQ nightclub in Colorado that killed at least five people and injured at least 25. Source: Crux.
Seven of those wounded were in critical condition.
The Church leaders — the Archbishop of Denver, leaders of religious orders and congregations, and a Catholic outreach group to members of the LGBTQ community — also prayed for those affected by the attack and called for an end to hate crimes and use of language that condemns those in the LGBTQ community.
The suspected gunman, 22-year-old Anderson Lee Aldrich, faced murder and hate crime charges on Monday, a law enforcement official told The Associated Press, adding that the suspect used an AR-15-style semi-automatic weapon in the attack at Club Q before he was restrained by people at the club.
On its Facebook page, the club thanked the "quick reactions of heroic customers that subdued the gunman and ended this hate attack" within minutes of the alleged gunman opening fire after entering the club shortly before midnight on Saturday.
Denver Archbishop Samuel Aquila said he was "saddened by this tragic and senseless act".
In a statement, he said that "while the motives remain unclear, what is clear is that evil incidents like this have become far too common in our society. The random acts of killing innocent human beings must be condemned by a civil society."
Outreach, a new initiative of Jesuit-run America Media that provides resources for LGBTQ Catholics, similarly issued a statement on its website praying for those who died, those who were wounded and for the LGBTQ community in Colorado Springs.
FULL STORY
Catholic leaders respond to shooting at Colorado nightclub (By Carol Zimmermann, CNS via Crux)