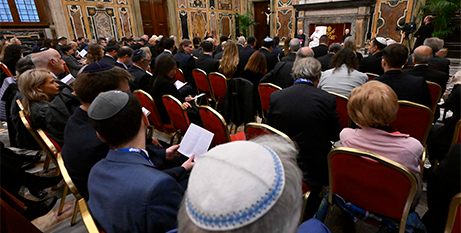 Christians and Jews are called to give witness to their faith by "working to make the world more fraternal, combating forms of inequality and promoting greater justice", Pope Francis told members of the World Jewish Congress. Source: NCR Online.
"Together we recognise that war, every war, is always and everywhere a defeat for all humanity," the Pope told the group yesterday.
"Think of the conflict in Ukraine, a sacrilegious war that threatens Jews and Christians alike, depriving them of their loved ones, their homes, their property and their very lives!"
Before meeting the Pope, the executive committee of the Congress held a special session with Vatican officials and diplomats accredited to the Holy See. The gathering focused on strengthening the bonds between the Vatican and the Congress, which represents Jewish communities in more than 100 countries.
Francis said their visit itself "testifies to and strengthens the bonds of friendship uniting us" and builds on more than 50 years of official dialogue since the Second Vatican Council.
Catholics and Jews, he said, have learned to recognise that they "share priceless spiritual treasures", beginning from faith in the one God who made heaven and earth, "who not only created humanity, but forms every human being in his own image and likeness".
Believing that violence, oppression and exploitation will not have the last word, the Pope said Christians and Jews not only live in hope, but they know they are called to do what they can to make God's plan for the world a reality.
"As Jews and Christians," he said, "let us seek to do all that is humanly possible in order to put an end to war and to pave paths of peace."
FULL STORY
Doing God's will means working for peace, Pope tells World Jewish Congress (NCR Online)