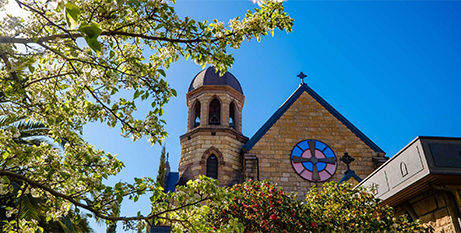 Religious statues have been decapitated and a painting of Jesus defaced in separate attacks on two churches in the heart of Albury. Source: Herald Sun.
Shocked parishioners have found beheaded statues – including of the Virgin Mary and St Francis of Assisi – in the border town this week, but church leaders have vowed they will not bow to intimidation.
The attacks on the neighbouring churches are believed to have occurred sometime between Monday night and the early hours of Tuesday this week.
Fr Henry Ibe of St Patrick's Church found his parish's prized statue of the Virgin Mary smashed up in the church yard on Monday night.
It appeared the statue had been picked up and smashed headfirst into the ground, causing its head to fall off.
Father Ibe believed the vandalism to be an act of intimidation against his church and had a strong message for the person responsible:
"We will not bow to intimidation, and we will respond by replacing the statue of Our Lady with a bigger one," he said.
Up the road at St Matthew's Church, parishioners were gathered inside packing hampers for people in need this Christmas before they found their statue of St Francis of Assisi toppled to the ground with pieces of his head strewn across the church grounds.
Fr Peter MacLeod-Miller described it as a tragedy as the statue formed part of a memorial to children who had died.
FULL STORY
Religious statues decapitated, Jesus painting defaced in attacks on Albury churches (By Himangi Singh, The Albury Wodonga News via Herald Sun)