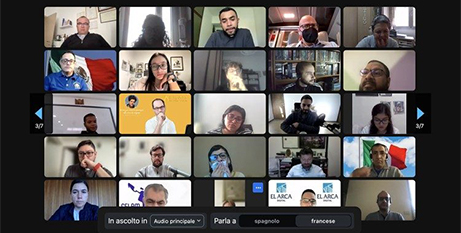 Digital evangelisers and hundreds of young people from five continents met online to pray and reflect this Advent as part of a "digital Synod" hosted by the Vatican's Dicastery for Communication. Source: Vatican News.
'The Church listens to you' initiative on Saturday opened with Monsignor Lucio Adrián Ruiz, Secretary of the Communications Dicastery, explaining, "These meetings are born out of 'synodal listening,' where so many of you have expressed the need to be able to experience the universal Church as well, to enrich the life of your communities and your own personal lives".
Joining Msgr Ruiz were Archbishop Rino Fisichella, from the Dicastery for Evangelisation, who is also in charge of the preparation of the Holy Year in 2025, and Dr Paolo Ruffini, prefect of the Dicastery for Communication. The Zoom event was translated into English, French, Portuguese, and Italian.
In his introductory message, Msgr Ruiz said "the Digital Continent presents itself as that 'space' where there are so many men and women who are looking for a reason to live, there are so many who do not know Jesus, it is a place where truth and goodness are often hard to find". He urged the evangelisers to bring Jesus and sow hope in online spaces.
At the end of the event, 12 small statues of the Child Jesus were displayed and blessed by Pope Francis, to be given as gifts to several young evangelisers.
FULL STORY
Vatican hosts 'digital Synod' Christmas celebration for Catholic influencers (By Sebastián Sansón Ferrari and Francesca Merlo, Vatican News)