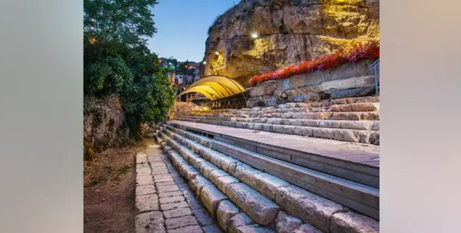 The Pool of Siloam, which the Bible says is where Jesus healed a man who was born blind, will be fully excavated and open to the public for the first time in 2000 years, Israeli authorities have announced. Source: Fox News Digital.
The Israel Antiquities Authority, the Israel National Parks Authority and the City of David Foundation announced days before the new year that the Pool of Siloam, a biblical site cherished by Christians and Jews, will be open to the public in the near future.
"The Pool of Siloam's excavation is highly significant to Christians around the world," American Pastor John Hagee, the founder and chairman of Christians United for Israel, said.
"It was at this site that Jesus healed the blind man (John:9), and it is at this site that, 2000 years ago, Jewish pilgrims cleansed themselves prior to entering the Second Temple.
"The Pool of Siloam and the Pilgrimage Road, both located within the City of David (ancient Jerusalem), are among the most inspiring archeological affirmations of the Bible."
A small section of the pool, which has been fully excavated, has been accessible to the public for several years. The vast majority of the pool is being excavated and will either be opened piecemeal or once the entire site is unearthed. There is a plan for space for visitors to the pool to view the ongoing excavation.
The pool was first built about 2700 years ago as part of Jerusalem's water system in the eighth century B.C. The construction unfolded during the reign of King Hezekia as cited in the Bible in the Book of Kings II, 20:20.
According to estimates, the Pool of Siloam passed through many stages of construction and reached two hectares size.
A stroke of luck revealed the pool in 2004, when infrastructure work carried out by the Hagihon water company uncovered some of the pool's steps.
FULL STORY
Biblical site where Jesus healed blind man excavated for public view: 'Affirms Scripture' (By Benjamin Weinthal, Fox News Digital)