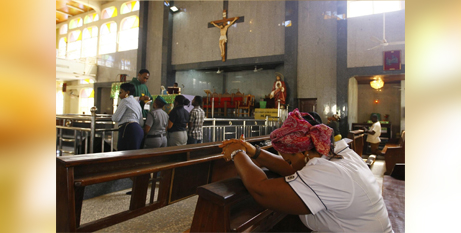 The nation with the best Mass attendance in the world could be Nigeria, according to a new study published by the United States-based Centre for Applied Research in the Apostolate. Source: Aleteia.
When asked the question "Apart from weddings, funerals and christenings, about how often do you attend religious services these days?" 94 per cent of self-identified Nigerian Catholics surveyed said they attend weekly or daily Mass.
The poll was conducted by the World Values Survey, which began tracking the data in the 1980s and has statistics for 36 countries with large Catholic populations.
CARA, which gathered the results, said it's not known exactly which country has the highest Mass attendance rate, "because surveys have not been conducted on the topic in every country in the world." Thus, for example, a country such as Malta is not on this list, but census data shows that as many as 40 per cent of Catholics there go to Mass weekly.
But among those surveyed by WVS, aside from Nigeria, weekly or more frequent Mass attendance is highest among adult self-identified Catholics in Kenya (73 per cent) and Lebanon (69 per cent).
"The next segment of countries, where half or more Catholics attend every week, includes the Philippines (56 per cent), Colombia (54 per cent), Poland (52 per cent), and Ecuador (50 per cent)," CARA, which is based at Georgetown University, said.
The survey found weekly Mass attended by Catholics in New Zealand and the United Kingdom was 25 per cent, 24 per cent in the United States and 21 per cent in Australia. The Netherlands had the lowest percentage, at just 7 per cent.
FULL STORY
Where in the world is Catholic Mass attendance highest? (By John Burger, Aleteia)