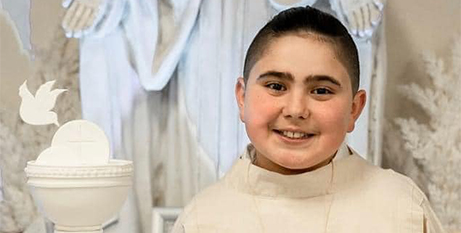 The young Catholic survivor of a horror helicopter crash that killed his mother on the Gold Coast has woken from his coma and spoken to his father for the first time. Source: News.com.au.
Nicholas Tadros was one of seven people on-board a joy ride helicopter that crashed near SeaWorld theme park on the Gold Coast. Four people died including his mother, Vanessa.
The family's parish priest, Fr Suresh Kumar of St Padre Pio, Glenmore Park in the Parramatta Diocese, called Nicholas a "living miracle" after he woke from an induced coma almost a month after the horrific incident.
"This little boy is a living miracle, friends," Fr Kumar said in a post to Facebook on Saturday.
The priest was overjoyed to reveal that Nicholas did not have a brain injury and was able to speak to his father Simon for the first time over the weekend.
"A billion thanks to God. He doesn't have brain injury," Fr Kumar said.
The medical team caring for Nicholas are still trying to save his right leg from amputation after it was "shattered very badly" during the crash.
"We have got to keep praying that his leg is not amputated as the danger of losing his leg is still looming," Fr Kumar said.
"Overall, our little champ is fighting the good fight and keeps improving."
Nicholas has also been receiving kidney dialysis and suffered severe lung damage after inhaling aviation fuel following the crash.
The church is fundraising to help support the Tadros family.
FULL STORY
SeaWorld helicopter crash survivor Nicholas Tadros speaks for first time (By Madeleine Achenza, News.com.au)