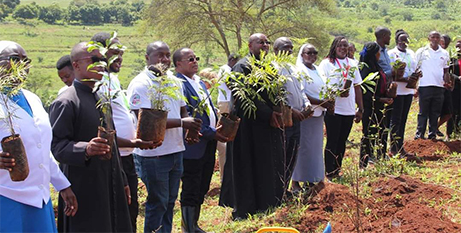 A Catholic diocese has teamed up with the largest bank in East Africa to restore degraded forests in Kenya. Source: NCR Online.
The Diocese of Murang'a has partnered with Equity Bank to increase forest cover as the country prepares to plant 15 billion trees in the next 10 years, part of newly elected President William Ruto's "ambitious pledge to ramp up clean energy and phase out fossil fuels for electricity by 2030" reported AP.
According to Kenya News Agency, the diocese will receive 10,000 seedlings from Equity Bank. Parishioners and community members will plant them in diocesan compounds and at institutions like schools and hospitals, under the supervision of Kenya Forest Service.
"The Church is ready to collaborate with other organisations in conserving the environment. It is our responsibility as Christians to protect nature," said Bishop James Wainaina of the Murang'a Diocese in a statement, adding that "such collaboration is a win-win".
Equity Bank was founded in 1984 as Equity Building Society, with the aim of uplifting low-income earners to own houses. The bank introduced the Africa Recovery and Resilience Plan to focus on many things, including environmental conservation, which Equity Group managing director and chief executive James Mwangi said will be given first priority by ensuring that African nations adopt cleaner energy, particularly in countries where the bank has a presence.
Bishop Wainaina lauded the collaboration between the bank and the diocese, saying it will significantly contribute to conserving the environment which in the recent past has been degraded by logging. He added that with the high population of Catholics in the country, the Church can be an effective institution to reinstate the degraded forests.
FULL STORY
Diocese and bank in Kenya partner to restore forests, mitigate and adapt to climate change (By Shadrack Omuka, NCR Online)