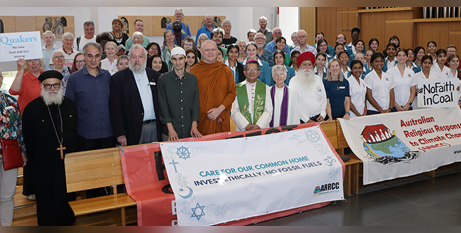 A multi-faith prayer service was held at St Patrick's Cathedral, Parramatta, on Thursday as part of a worldwide fossil fuel Divestment Week of Action, initiated by the global Catholic Laudato Si' Movement. Source: Catholic Outlook.
Held during Lent, the Week of Action is to encourage people of faith across the world and their organisations to consider divesting from fossil fuels as part of their broader responsibility to care for the earth.
Leaders from several faiths participated in the prayer service including Parramatta Bishop Vincent Long OFM Conv, Venerable Bhante Sujato, Rabbi George Mordecai, Ahmet Ozturk, Reverend Meredith Williams and Reverend Dr Shenouda Mansour.
Organised by the Australian Religious Response to Climate Change (ARRCC), the event highlighted that people of faith and faith-based organisations should "repent" of unwittingly allowing their savings to finance coal, oil and gas mining.
In his homily, Bishop Long said, "The time has come for us to act decisively to reduce our carbon footprint, to invest in renewable energy, to divest from fossil fuels, to consume less and waste less".
Thea Ormerod, president of ARRCC, said, "It is not well known that the big banks and funds tend to invest heavily in coal, oil and gas mining and infrastructure, but certain banks, such as Bendigo Bank and Bank Australia, avoid this and instead engage in 'positive impact investing'."
Faith-based organisations have been among the first to embrace fossil fuel divestment, both in Australia and globally. Worldwide, of all organisations to have committed to divestment, those that are faith-based are the largest in number.
"It makes sense. Faith-based organisations come out of long revered traditions of seeking to live more ethically," Ms Ormerod said. "Action to ensure that one's money is used as a power for good and not for harm should, and often does, flow seamlessly from other religious values. Values such as responsibility to care for the earth, respect for life, compassion and justice."
FULL STORY
People of faith gather for global Divestment Week of Action (Catholic Outlook)