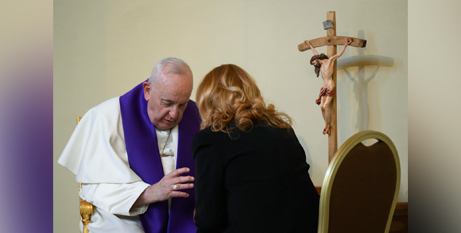 In a world where "there is no shortage of hotbeds of hatred and revenge", Pope Francis told priests and seminarians that "we confessors must multiply the 'hotbeds of mercy'" by making it easy for people to access the sacrament of reconciliation. Source: CNS.
"We are in a supernatural struggle" with evil, the Pope said, "even though we already know the final outcome will be Christ's victory over the powers of evil. This victory truly takes place every time a penitent is absolved. Nothing drives away and defeats evil more than divine mercy."
Pope Francis was speaking on March 23 with priests and seminarians attending a course at the Apostolic Penitentiary, a Vatican tribunal dealing with matters of conscience, the sacrament of reconciliation and indulgences, and with priests who offer confession at the major basilicas of Rome.
He told them, "If someone doesn't feel like being a giver of the mercy he received from Jesus, don't enter the confessional."
The Pope said he had told Cardinal Mauro Piacenza, head of the Apostolic Penitentiary, which assigns confessors to the major basilicas of Rome, that one of the confessors "listens and rebukes, rebukes and then gives you a penance that cannot be done. Please, this will not do, no. Mercy. You are there to forgive and to say something so that the person can move forward renewed by forgiveness."
"You are there to forgive: put that in your heart," the Pope told them.
Pope Francis pleaded with the priests to be generous with the time they are available for confessions. Every cathedral, every shrine and every deanery or cluster of parishes should have an ample schedule of confession times, he said.
"If mercy is the mission of the Church, we must facilitate the faithful's access to this 'encounter of love' as much as possible," he said, taking great care when preparing children for their first confession and, especially, when ministering to the sick and dying.
FULL STORY
Confession is 'encounter of love' that fights evil, Pope tells priests (CNS)