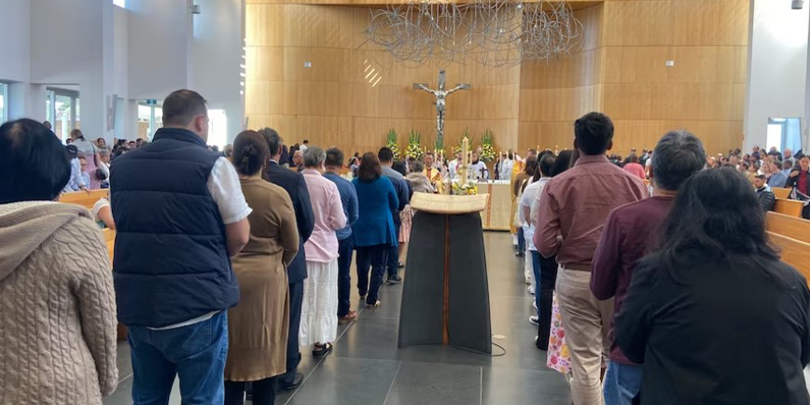 As churches across the nation recorded the return of big Easter crowds, Prime Minister Anthony Albanese said Easter Sunday was a celebration of faith, hope and renewal. Source: West Australian/ABC News.
In a video posted on social media on Sunday, Mr Albanese wished Australians a "safe, happy and holy Easter".
"Happy Easter, Australia. For many, Easter Sunday is a holy day marking the resurrection — a celebration of faith, hope and renewal," Mr Albanese said.
"The variety of services, vigils and ceremonies across the Easter period speaks for our nation's diversity. Of course, it's only possible for us to enjoy the long weekend because of the efforts of those Australians who are working through these public holidays."
Meanwhile, Opposition leader Peter Dutton also shared an Easter message, acknowledging it was a time for atonement, forgiveness, love, and hope.
"On behalf of the federal Coalition, I'd like to wish everyone a very happy Easter. For Christians everywhere, this is a time to reflect on the ultimate sacrifice made by Jesus Christ — and the profound impact his teachings continue to have on our lives," Mr Dutton said.
Meanwhile, the ABC reports that Easter congregations were up in churches across the nation.
On a sunny day in the Sunshine State, hundreds of Christians marked Easter at Masses in Brisbane on Sunday morning, hearing messages of hope, love and reconciliation, with standing room only at St Stephen's Cathedral.
As cathedrals across the country reported big crowds, in Adelaide Archbishop Patrick O'Regan said crowds at St Francis Xavier Cathedral in the CBD had been up this year throughout the Easter weekend.
"COVID disappearing a little bit has given people a bit of a chance to realign and to look at what's important and get back in the groove a bit as well," he said.
Church leaders spoke of the hope of Easter which was desperately needed to help people face the current suffering and difficulties in the world.
FULL STORY
Prime Minister Albanese, Opposition Leader Dutton share Easter messages with themes of hope and renewal (By Kimberley Caines, The West Australian)
'There is always hope': Communities gather across Australia to celebrate Easter Sunday (ABC News)
RELATED COVERAGE
On a chilly Easter Sunday, Christians across Melbourne reflect on hope and community (The Age)
Prime Minister's Easter message touches on themes of 'faith, hope and renewal' (The Australian)
Anthony Albanese delivers Easter message for Australians (Sky News)
Anthony Albanese reflects on Australia's diversity, hope and renewal in Easter message (SBS News)