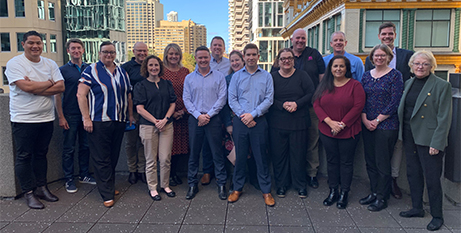 More than 3000 Australian pilgrims will travel to Portugal for World Youth Day 2023, making it one of the largest Australian contingents to attend the gathering in its history. Source: ACBC Media Blog.
A group of 25 World Youth Day pilgrimage coordinators gathered in Sydney – or joined the meeting online – earlier this month for the final preparation day before the August 1-6 celebrations.
The focus of the day was to spiritually nourish coordinators and provide the latest information and planning for the pilgrims' arrival in Lisbon in about 10 weeks' time.
"This was a great chance for us all to pray together, and also to encourage the leaders to remember that they themselves will be on pilgrimage," said Archbishop Christopher Prowse, chair of the Bishops Commission for Evangelisation, Laity and Ministry.
"These faith-filled Catholics, some of whom have attended several previous World Youth Days, can be an example of prayer, presence, and accompaniment – and not be all business, all the time.
"As I said to the leaders, their tone and presence can be an example to their groups and other leaders about how we enter into our pilgrimage experience."
In addition to the week-long event in Portugal, the dozens of Australian groups will also undertake pilgrimages or retreats in places like the Holy Land, Rome, Lourdes, Fatima, Avila and Assisi.
The Australian pilgrims will be joined by many young people from the Oceania region, with World Youth Day organisers and Australian dioceses providing financial assistance to support their participation.
FULL STORY
Thousands of pilgrims counting down to World Youth Day (ACBC Media Blog)