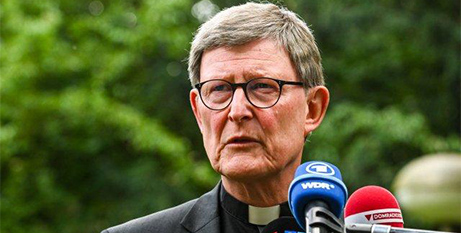 German law enforcement officials searched several buildings of the Archdiocese of Cologne yesterday as part of an ongoing investigation into allegations of perjury made against the archbishop, Cardinal Rainer Maria Woelki. Source: CNA.
The perjury allegations revolve around the accusation that Cardinal Woelki may have provided false testimony about his awareness of reports of clergy sexual abuse within the archdiocese.
The investigation is focused on testimony related to the case of abuse committed by a priest who passed away in 2019. Cardinal Woelki has been accused of having been informed about the case earlier than he had previously stated under oath.
The search of the archdiocese's business documents and emails is intended to determine whether the accusation of perjury against Cardinal Woelki can be substantiated or refuted.
Searches were conducted simultaneously at 8am local time by 30 police officers and four public prosecutors at six locations, including the premises of the vicariate general and the archbishop's house, as well as at the business premises of the IT service provider that manages the email traffic of the Archdiocese of Cologne.
The archdiocese's press office confirmed the searches, adding: "Experience has shown that it will take some time before the results are available. Until then, we ask the public not to take an open-ended investigation as an opportunity to make preliminary judgments."
The prosecutor's office emphasised in a statement on Tuesday that the measures were aimed at clarifying an initial suspicion with a view to establishing both incriminating and exculpatory circumstances.
"To avoid any misunderstandings, it should be noted that the accused is not being charged with covering up or participating in any acts of abuse," the prosecutor said.
FULL STORY
German cardinal under investigation: Allegations of perjury prompt search of archdiocese (By AC Wimmer, CNA)