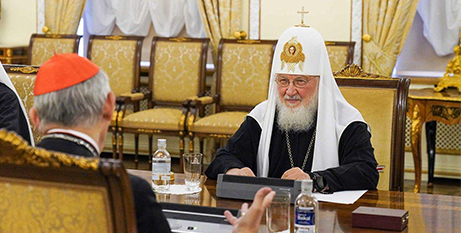 The Catholic and Russian Orthodox churches should join efforts to promote peace before threats of a "major global armed conflict", the head of the Russian Orthodox Church told Pope Francis' envoy, who is on a peace mission to Moscow. Source: CNS.
Meeting on June 29 with Cardinal Matteo Zuppi, who was sent by the Pope on a two-part peace mission to Ukraine and Russia, Russian Orthodox Patriarch Kirill of Moscow said the churches have a role in preventing "the negative development of political conditions" and working for peace and justice, according to a press release from the Russian Orthodox Church.
Patriarch Kirill has repeatedly and publicly justified and supported Russia's full-scale invasion of Ukraine.
"At the time when great problems have emerged in the relations between Russia and the West, when we encounter both a great tension in the sphere of political relations and real threats of the emergence of a major global armed conflict, it is very important that all the forces interested in preservation of peace and justice should unite to prevent such feasible pace of events," Patriarch Kirill told the cardinal, according to the statement.
Expressing the need to strengthen relations between the Catholic and Russian Orthodox churches, the patriarch said, "It is very important that in this very difficult time Christian communities in East and West should participate in the process of reconciliation," the statement said.
Cardinal Zuppi reportedly stressed the need for increased dialogue between churches during times of conflict "to understand what the Lord asks us to do."
In a statement on June 30, the Vatican said the two discussed "humanitarian initiatives that could facilitate a peaceful solution" to the war in Ukraine and that Cardinal Zuppi conveyed the Pope's greeting to the patriarch.
FULL STORY
Our churches must serve peace, Russian Orthodox leader tells cardinal (By Justin McLellan, CNS)