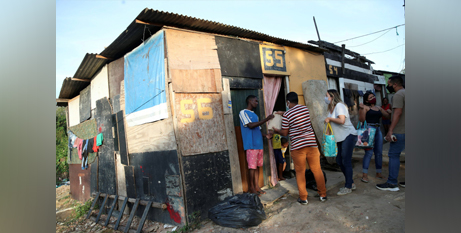 The Church in Brazil has coordinated efforts to offer pastoral ministry to the 12 million families living in the country's slums, known as favelas in Portuguese. Source: NCR Online.
Up to 60 million people live in favelas and 55 million people do not have access to a sewage system.
Until now, the Church did not have a special national pastoral ministry outreach to this large population.
In September, members of favela ministries that exist in different cities met in Brasilia and officially created a nationwide Housing and Slums Pastoral Ministry, connected to the bishops' conference and guided by a bishop especially designated for that task.
The initiative was a direct result of the Sixth Brazilian Social Week, a forum of social pastoral ministries that gather to promote actions to address Brazil's most urgent problems. Launched in 2020, the theme of the sixth such week was Pope Francis' three "T"s – "tierra, trabajo and techo" for "land, work and housing".
"We realised that the Church is largely absent from the slums and poor peripheries. The number of priests and missionaries in those areas is very limited," said Alessandra Miranda, executive secretary of the Sixth Brazilian Social Week and one of the coordinators of the new pastoral ministry.
That is not a secondary issue for the Church in Brazil. Most of the urban growth that happened in the country over the past few decades generated favelas. In 2010, for instance, there were 6329 of them in 323 cities. Now, there are more than 13,000.
Ms Miranda said that the new ministry will help to organise groups in every Brazilian state. Their idea also is to promote a Church debate on housing issues.
FULL STORY
Catholic Church in Brazil launches first nationwide pastoral outreach to slums (By Edward Campos Lima, OSV News/NCR Online)