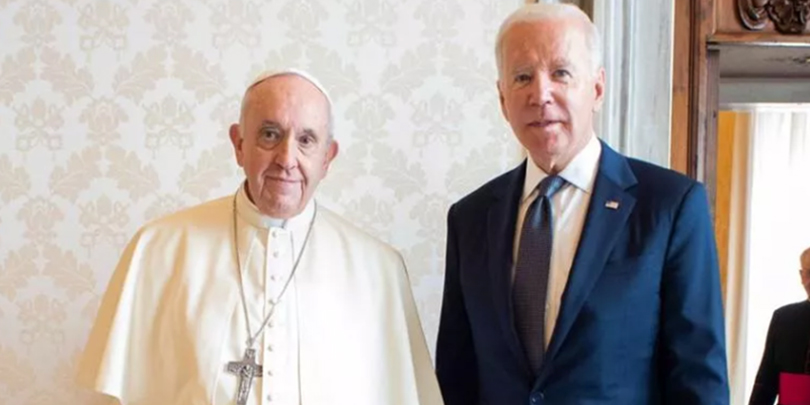 Pope Francis has called for the release of Israeli hostages held in Gaza and spoken with US President Joe Biden to discuss the humanitarian crisis and the need to de-escalate violence in the region. Source: NCR Online.
"I renew my appeal for spaces to be opened, for humanitarian aid to continue to arrive, and for the hostages to be freed," the Pope said after praying the Angelus on Sunday with some 20,000 people in St Peter's Square.
Some 200 hostages were taken into Gaza by Hamas during its coordinated attack on Israel on October 7 which killed more than 1400 people. Two US hostages were released on October 20 after negotiations between Qatar and Hamas.
The Guardian is reporting that two more hostages have been freed and that diplomatic efforts were intensifying yesterday as reports from the region suggest a significant number – perhaps up to 50 – may be freed imminently.
On Sunday, the Pope said he was "very concerned" and "grieved" by the situation in Israel and Palestine. "I pray, and I am close to all those who are suffering: the hostages, the wounded, the victims and their relatives," he added.
Later in the day, the Pope spoke with Mr Biden in a 20-minute phone call to discuss "situations of conflict in the world" and the need to find avenues toward peace, the Vatican said.
In their conversation, Mr Biden "condemned the barbarous attack by Hamas against Israeli civilians and affirmed the need to protect civilians in Gaza," the White House said in a statement released on Sunday.
The White House said the two leaders also discussed "the need to prevent escalation in the region and to work toward a durable peace in the Middle East."
FULL STORY
Pope again calls for release of hostages in Gaza, discusses aid with Biden (By Justin McLellan, OSV News)
Two Israeli hostages released as efforts intensify to free people held by Hamas (The Guardian)