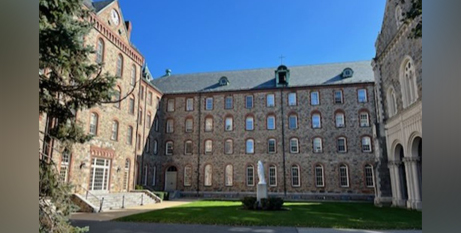 A United States seminary has launched a yearlong program to better introduce Catholic men studying for the priesthood to the basics of faith formation, spiritual direction and service to the local community. Source: NCR Online.
Boston Archdiocese's St John's Seminary started the "propaedeutic year" (preparatory and introductory teaching) in August, following the US bishops' 2019 approval of a new program of priestly formation, which envisions a program of at least one year to help improve spiritual and human formation for seminarians.
Within the bishops' conference guidelines, each individual seminary has significant room to create a program as they see best for their students. In Boston, this looks like prayer, community, academics — and service.
Once a week, seminarians in the program head to St Francis House, a homeless shelter and services provider in downtown Boston.
"Jesus shows us how to be human in the world. We are called to profound service to those on the margins," said Fr Michael MacInnis, director of the new program. "By doing that, we discover Christ within us and in others."
Once a month, the seminarians also participate in Encounter Boston, a ministry to the homeless centred around the Cathedral of the Holy Cross in Boston's South End. As part of the initiative, seminarians walk around the city to have conversations with the men and women on the street.
"It's not so much providing material assistance, but rather addressing the poverty of loneliness," said Fr Michael Zimmerman, who leads the archdiocese's Encounter Ministry and is also the assistant vocations director for the archdiocese and an adjunct professor of Scripture at the seminary.
"We confront our own poverty and our own inability to fix anyone's problems," he said.
The academic aspect of the program is also structured to reflect the changing backgrounds of men entering seminary.
"We're not presuming they have any familiarity with the Bible," Fr Zimmerman said. "We're starting from scratch."
FULL STORY
Boston seminary starts preparatory year program for priest candidates (By Greta Gaffin, NCR Online)