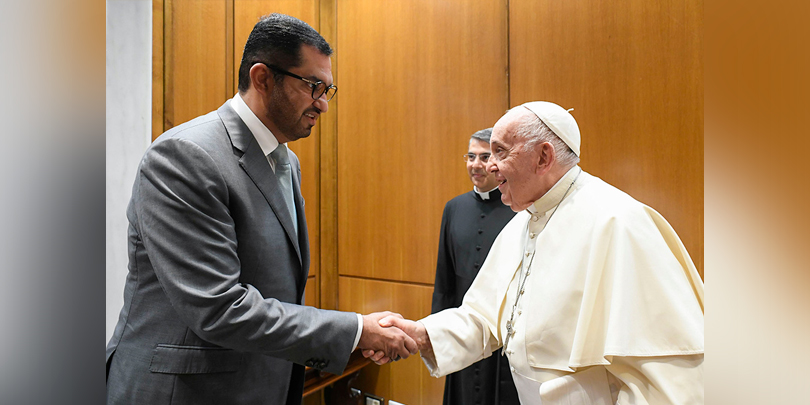 Pope Francis has confirmed he will attend the United Nations' COP28 climate change conference in Dubai, United Arab Emirates. Source: NCR Online.
He made the announcement during an interview on Wednesday with Italian television network RAI.
The December 1-3 trip will mark Francis' second visit to the United Arab Emirates and will take place less than two months after the release of Laudate Deum, an 11-page letter on the environment where the Pope called for world leaders to join in collective action at the summit to stave off climate catastrophes.
While the Pope used the letter to praise the headway that has been made in annual UN climate summits, he warned that progress is not happening quickly enough and that past agreements have lacked the necessary monitoring and enforcement mechanisms.
The decision by Francis to attend COP28, which runs from November 30-December 12, is the latest in a series of moves by the Vatican in the past year to more seriously engage international deliberations on climate change.
In October 2022, the Holy See formally joined both the UN Framework Convention on Climate Change – the body that oversees the annual climate summits – and the Paris Agreement, the landmark deal where nations committed to slashing heat-trapping greenhouse gas emissions to limit average global temperature rise to "well below" 2 degrees Celsius, and strive to hold it to 1.5 C.
Exactly one year after the Holy See's entry into the Paris accord, Francis issued Laudate Deum. And now he is poised to become the first pope to attend a UN climate summit.
Francis visited Abu Dhabi in the United Arab Emirates in 2019 his return visit will mark his 45th trip abroad since his election in 2013.
FULL STORY
Pope Francis to travel to Dubai to address UN climate summit (By Christopher White, NCR Online)