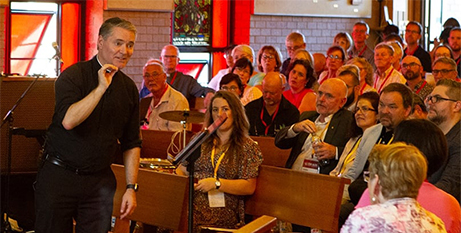 Australia's first Divine Renovation conference brought close to 500 delegates from across the country and New Zealand to Sydney for four days of inspiration and education in ways that parishes can become dynamic centres of the Church's life and mission. Source: The Catholic Weekly.
Canadian priests Fr James Mallon, the founder of Divine Renovation, and Fr Simon Lobo CC, whose experience of parish renewal was detailed in Fr Mallon's book Divine Renovation, were joined by other national and international leaders in evangelisation and parish renewal.
The conference was hosted by St Declan's Parish in Penshurst at the church and Marist Catholic College, Penshurst, with the Sydney Centre for Evangelisation a supporting partner.
At the conference, Fr Mallon laid out the case for parishes to move from maintenance to mission.
The task of parish renewal is not easy and involves cultural change in our parishes but it is an adventure which brings new life, he said.
"Mission is not just something we do, or that we could or should do. It's who we are. It is ultimately a question of identity. The Church has an identity crisis and has forgotten who we are as a Church," he said.
"The primary task of the missionary Church is to fulfil the commission that Jesus gave to go and make disciples of all nations … to be a Church that is not about itself but about others."
Penshurst parish priest Fr Chris Ryan MGL said it was a privilege to host the inaugural event.
"Divine Renovation's approach to parish renewal has greatly influenced our parish's mission, vision and strategy. It has been very exciting to see the fruit of changed lives, genuine Christian community, and a parish that is truly seeking to reach out to those who not yet know the love of God," Fr Ryan said.
FULL STORY
A Renovation of parish life that's Divine (By Marilyn Rodrigues, The Catholic Weekly)