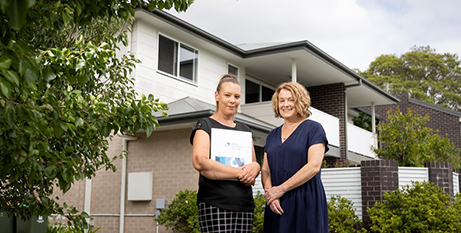 Maitland-Newcastle Diocese has established a new entity, Hunter Community Housing, which reinforces its strong commitment to reducing homelessness by expanding its social, affordable and disability housing portfolio. Source: MNnews.Today.
When the average rent for a three-bedroom home within the Hunter region is $550 per week and the Department of Communities and Justice advises the social housing waitlist in New South Wales has over 50,000 people on it, it's easy to see why these issues are at the forefront of many people's minds, including the leaders of the diocese.
Jessica Bentley is the General Operations Manager for Hunter Community Housing (HCH), which was approved as a Tier Two community housing provider by the National Regulatory System Community Housing in November.
"To know that such a basic need is really hard to come by at the moment and to be able to assist people to fill this gap is a privilege," Ms Bentley said.
"There is a huge need in our local area. Even before the diocese launched Hunter Community Housing, we were seeing people come to us out of desperation.
"Being a new provider in this space, we certainly don't have a waitlist program feeding an endless supply of housing but the diocese has ambitious plans for a suite of housing developments at locations across the region."
Ms Bentley said that providing affordable leases was the agency's primary goal but putting a roof over people's heads was not its sole focus.
"Stable housing plays a critical role in helping people but that's not always enough. Our wrap-around supports look at the whole person connecting our tenants with relevant services and supports," she said.
HCH tenants have access to a wide range of services offered by the diocese including social support through CatholicCare Social Services Hunter-Manning; training and pathways to employment offered by St Nicholas Pathways; and access to education and childcare services through its many schools and early education centres.
Maree Bird is young adult services manager of CatholicCare's Supported Independent Living program, which supports young people who have previously been in foster care as they transition to adulthood by providing them with case management, life skills development, and accommodation.
She said HCH "will help so many in our community to get a strong footing and this can change their entire trajectory in life".
FULL STORY
A home run for the Hunter (By Liz Baker, MNnews.Today)